Invitation to a Professional Networking Luncheon 
Friday, September 14th, 2016, 11:30 am to 1:30 pm
Nassau Club garden room. The Nassau Club of Princeton
The Board of the Mercer County Psychological Association is pleased to invite you to a professional networking luncheon for members, as well as non-members psychologists who may be interested in the association. This event is free to members and their guests. RSVP to Hava Mendelberg at (609) 921 – 2213.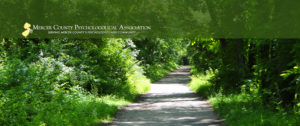 MCPA members are invited, and also encouraged to bring  a non-MCPA psychologist who is a source of referral, or could be interested in joining the association.
We will start with brief introductions for you to tell about your practice, specializations, background, and experience. A luncheon will follow.
Please RSVP in response to this announcement.
___________________
Hava E. Mendelberg, PhD
(609) 921-2213